What Does This Stuff Cost?  

Google My Business as well as Google Maps and Searches is FREE.  Everything is controlled from your Google My Business account page.  For Google Maps Street View | Trusted (formerly Google Business Views, the virtual Google tour and photos for your business) there is a minimal labor cost to photograph and install your location.  Once installed it runs for as long as you wish for free.  It all boils down to the size, location and details of your business.  A small business can cost as little as $300. for photography and installation.  Please remember we photograph and install every kind of business to this program.  For an exact cost just give us a call or email and we'll be happy to get you a free quote. Contact Us Here

How Can It Make Me Money and Benefit My Business?

A recent study indicated that 97% of consumers don't use the phone book anymore but instead they use the internet to search for products and services.   Most of the time these searches are on mobile devices like phones or pads.   72%, almost 3/4 of all internet searches are local people looking for local goods and services.  So the key to helping people find you is geo-location.  Google My Business and Google Maps Street View | Trusted is the key to getting your business on the Google Maps/Searches system.  YOU NEED IT BECAUSE IT WORKS! 

Can I Get My New Business Online With Google Fast?

Watch this video for instruction or call us today!  
Why Do You Need These Google Tools?  

Because phone books don't work anymore and customers search for you online!  Most customers will search for local goods and services (your business) with their phone like almost all of us do.  You need to be there when they search!
Do I Need A Website to Benefit From Google My Business?

No you do not have to have a website.  Many small business do very well online just using these Google tools.  That said, a website serves to deliver many finer details about your business and you as a business person to attract your clients.  You can get a website up and going without breaking the bank.  Give us a call for more information.
Do You Need Video For Your Business?

Video is huge!  That's why all the big businesses in the world use it.  You Tube is another Google tool.  It is a way for you to show your videos to the world for free.  Just as we have videos embedded into various pages on this website you can do the same at no cost.  Creating those videos does take a little time and effort so there are expenses.  Call for more help!

What Does Social Media Have To Do With My Business?

Google+, Facebook, Twitter and Instagram are just a few Social Media platforms out there.  These can be powerful tools for opening up conversations with perspective customers and keeping in touch with longstanding customers as well.  Need more information calls us.
We Speak Google!
Ken Cox is a Google Trusted Independent Photographer in Southern California.

These Google Tools are free!  It does take time and effort to get things going.  "Time is Money", so while it doesn't cost anything, out of pocket,  it does cost!   That said, you can spend money on Google advertising, various listings and or for instance.  I am focusing on the free tools above.  Google My Business is a free business listing on the most powerful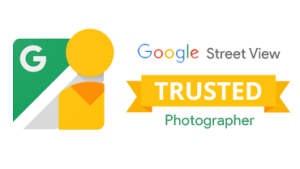 Search Engines online and a lot more.  It will also harness Google Maps (another free tool) to bring people to your front door. Google Maps Street View | Trusted is actually a Google Map inside your business.   GMSV-T requires a Google Photographer to come to your location to photograph your place in a very specific way.  There is a minimal onetime fee for this time, labor and expense.  Once the material is installed it runs for free for as long as you wish.  For more about each Google Tool above just click on the name.
Do you need pricing on GMSV-T for a specific location?  It's all about size, location and details.  Please call us!